Latest Code Is Shown Above
GFA Note:
FLASH!!:


GFA Note:




Thank you for visiting my homepage

Here you'll find GFAWHELP and GB32HELP, the Freeware Windows Help Files For GFA Basic For Windows. The routines can all be copied to the GFA Basic Editor. If you set your paths in the respective .ini files the Editor may be called from the Win help button bar at the top of the either help file. There are hundreds of GFA Basic routines and hundreds of examples on calling the Windows API. Some great programmers have contributed to these Help File and without their contributions these files would not be possible. Please review the Credits page in the respective .HLP files for their names.

Although the GFAWHELP and the GB32HELP files may be found at other web sites this is the only site, to my knowledge, where the files are always up to date.

The main purpose of this homepage is to maintain a source to help those new to GFA Basic in their programming efforts.

GFA32 Download Files Added
UPDATES
June 2000 -16BITAPI Page
June 2000 32BITAPI Page
June 2000 GB32 BEGINNERS Page
September 2000 FUNSTUFF Page
October 2000 GFA & ASSEMBLER Page
January 2001 GFA & Libraries
Feb 2001 GFA CutNPaste Code
Home Page Of Dale Bryant

Email Me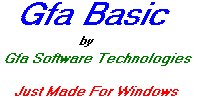 FastCounter by LinkExchange
Important note: Most software presented for download over the Internet is compressed with a ZIP-packer to allow small download times. If you have no un-ZIP, download is of no use for you! One of the best un-ZIP for Windows 3.x, 95 and NT can be downloaded from the WinZip link below:

This web site is constantly being Updated
The GFAWHELP and GB32HELP Files are Freeware and no charge is to be made for their use.
Many GFA programmers have contributed to these help files.
A Disk Copying charge is allowed.
I retain all rights to the GFAWHELP and GB32HELP files.
These pages have been listed on Brooklyn Norths HTML Assistant Pro97 Hall Of Fame Web Pages..athttp://www.brooknorth.com/customers/hall_of_fame.html
Updated 08/05/2000
P r e f e r r e d V i e w e r
Except where otherwise mentioned, the files on this site and their content are © 1998/2001 by their respective authors
Dale Bryant.